About us –  Banana Surf Camp

You will find our small surf shop with dedicated staff right in the heart of Arugam Bay. The business started small with just a few boards to rent out and became a full shop and surf camp with a team of energetic members. The friendly staff at the shop will help you with information about the surf points, can provide board rentals, surf leashes, fins, and wax, and can book lessons and repair boards. The instructors will teach you surfing in the water and the responsible tuk-tuk drivers will take you safely to the surf points and will watch your belongings.
Stop by the shop and say hi! We're excited to meet you.

Banana Surf Camp was founded in 2014 by surf instructor, Iflas Kiyas (known as Ibu), when he left Colombo to start a surfboard rental business. Ibu started with 7 surfboards and rented a small garage on Main Street in Arugam Bay. While renting surfboards and improving his English with his first English-speaking customer, people were continuously asking for a shop name. It was one Australian customer, who suggested naming his shop after one of the most popular, domestic, and delicious fruits of Sri Lanka: The Banana. Since then, Banana Surf Camp has grown and kept adding services and products to please customer requests. Besides surfboard repairs and surf lessons, Ibu and his team started the Surf Camp, where tourists can dramatically improve their surf skills in just a few days. Today, Banana Surf Camp has become one of the most popular surf shops in Arugam Bay with some of the most reliable instructors.

Ibu began surfing with friends when he was young in between school study breaks. After graduating from high school, he moved to Colombo to pursue tourism and the airline industry and to work. It was during this time that he learned to speak English and Singhalese fluently. While working in the busy city, he knew his heart was still in Arugam Bay. In 2014 he left Colombo to start the surf shop. Ibu is passionate about sharing the surf culture in Arugam Bay with foreign friends and enjoys learning about their culture too. Between spending time with friends, serving the Arugam Bay Surf Club, and teaching others how to repair boards, he still squeezes in as much surfing as possible.

Nilam is living right next to the ocean, waking up every day to the sound of the waves. He began surfing in 2006 at the Baby Point in Arugam Bay and Pottuvil Point. From 2014 – 2018, Nilam spent time working in Saudi Arabia supervising a group of employees. When he returned home, the first thing he did was buy a tuk tuk that would allow him to surf wherever he wanted and take others to the surf spots too. After realizing how much he enjoyed helping others catch waves, he got his ISA surf instructor license in 2018. He loves to teach students, who come to Arugam Bay as guests and leave as friends. Nilam is also a father to four wonderful girls, two of which are identical twins.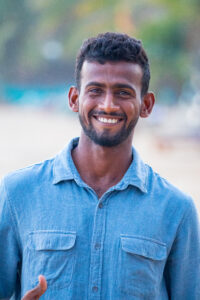 Olith began surfing in high school with friends in his hometown, Arugam Bay. Before surfing, he played cricket, soccer/football, and other sports with friends. Surfing was by far his favorite sport and he spent free time watching surf videos to learn more. In 2019, Olith became a certified ISA surf instructor. Sharing his passion for surfing and experience is what motivates him to teach others to surf. In addition to instructing, Olith works part-time with Coin Tree which provides supplies and renovations for local Montessori schools.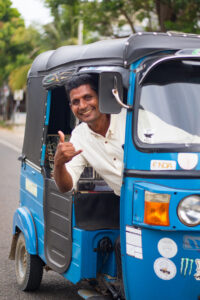 Nawas is living in Pottuvil, the main town next to Arugam Bay. He is a father to three lovely kids. He wakes up around 4:30 AM every day during the season to start his day taking surfers to and from the surf points and protecting their belongings while they surf. Nawas enjoys getting to know the culture and the food of the travelers visiting Arugam Bay. He has been working with Banana Surf from early on and is one of the most reliable and most professional tuk-tuk drivers in Arugam Bay.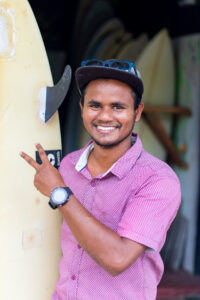 Fayad is Ibu's younger brother and is the youngest in his family of four siblings. After graduating from high school, Fayad learned how to repair surfboards by shadowing his brother in the shop, quickly mastering the art of repairs. Fayad is knowledgeable about repairs and is happy to explain the differences in boards for rental for customers with questions. If you visit the shop today, there is a good chance you'll meet Fayad. He enjoys surfing, working at the shop, making new friends, and meeting people from around the world.

Farzan had prior surf shop experience before joining Banana Surf in 2021. He is patient, a good listener, and is honest and organized. He likes working at the surf shop, helping connect customers with the right boards, repairing boards, learning hospitality and likes practicing English. Farzan has made lots of friends at the shop and is still keeping in touch with friends from around the world on social media.