Get the taste of a surfer's lifestyle at Banana Surf Camp. One week full of emotions, excitement, and stories to tell. Surf until your body needs a break, eat to refill your energy, sleep to get some rest to repeat it all again the next day. Share all your experiences with other surfers at the camp. You will have plenty of time to socialize and to see and explore Arugam Bay. If your energy is enough, there are places to party and meet other people at night. Come and check it out yourself!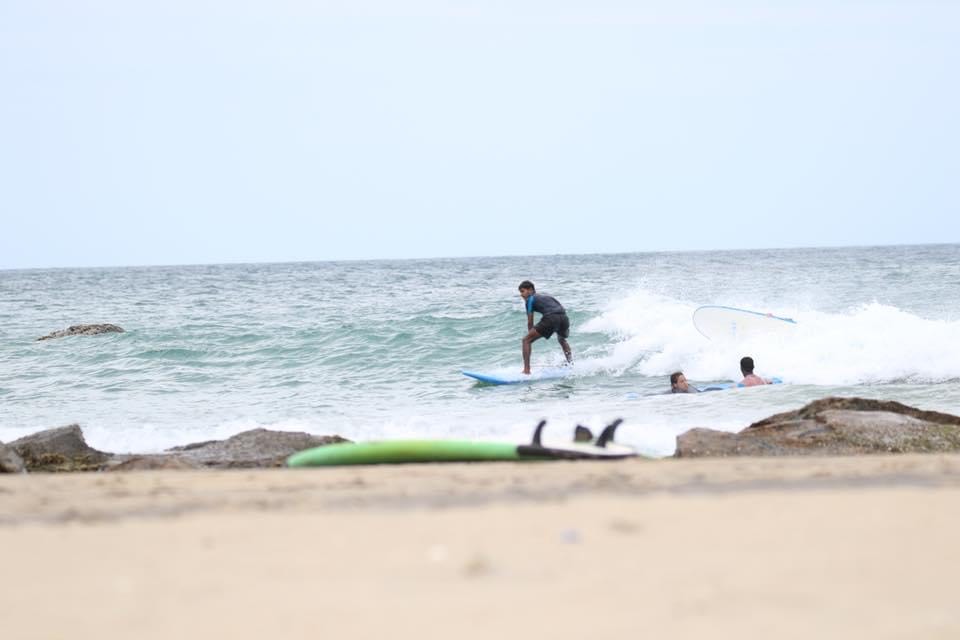 Throughout the week, we will surf morning and afternoon for 5 days of the week.  One and a half hours in the morning, and the same in the afternoon. Every other surf day we will have some video analysis and one day we will cover surf theory where you will learn about the currents, safety, surf points, surf etiquette, and surfboards. Each surf day, you and your board will be transported to the surf spot by tuk-tuk. We will check out the destinations and surf spots ahead of time looking for the best waves for a lot of fun and success in each surf lesson. You will always surf with checked and prepared full equipment because your safety is our highest priority!

Breakfast is included daily at the camp and four dinners will be provided. Meals are mostly vegetarian with a mix of local food and western food and we can accommodate most dietary needs easily (gluten-free, vegan, vegetarian, etc). We want you to have a chance to explore Arugam Bay, which is why lunches and some dinners are open for you to go out on your own. We recommend places like Salty Swamis or Emily's for healthy meals or Mamas and Siripala for low-budget and local food. Takeaway and dine-in are both options.

Our accommodation is located off of the main street and 20 meters from the beach. The hotel has 4 double rooms with AC and 2 double rooms with fan. The location is just a short walk from many restaurants and close to the Main Point and Baby Point. At the hotel, there is a beautiful garden and a dining area where we will eat, meet in the morning and afternoon for surfing, and do our surf theory sessions. Between surfing, theory, and activities, you can grab a fresh coconut and enjoy your day.

Your body is from all the surfing during the day, but you feel good and you have a deep sleep. Your head is full of amazing memories of the day having fun joining different activities like yoga or a safari and exploring chill-out places of Arugam Bay. You met a lot of new people, some that might become close friends in the future and some more surf vacations. Your hunger is satisfied by good food from the local cuisine or international kitchens. Go to bed, dream about the exciting day and we will repeat it all again tomorrow!
EXAMPLE DAY AT BANANA SURF CAMP

5:00 AM Wake up
Wake up bright and early before the sun is up. Meet together and hop in the tuk-tuks and head out for our sunrise surf.
5:30 AM Surf
As a group, we'll go to Baby Point, Elephant Rock, or Peanut Farm. We decide where to go by keeping track of the wave consistency and the traffic at each spot throughout the season.
8:30 AM Breakfast
This is our favorite part of the day. After a beautiful sunrise surf session, we head back to Arugam Bay for a good breakfast. Breakfast will be local, western, or a combination, and we can accommodate most dietary needs. Typically, we'll eat as a group, but you are free to go elsewhere if you like.

CHILL
Join a yoga class, go for a bike ride, learn to play Carrom, lay outside and read a book, grab a coconut and 'relaxa', get to know new friends, or simply take a nap.
3:00 PM Surf
Surf, eat, sleep, repeat. Surf the afternoon away just before the sun goes down.
7:00 PM Video Analysis
Your progress is important to us over the week! We film morning lessons a few times throughout the week and meet together in the afternoon to go over what we see. You'll get to see yourself and your peers ride the waves and learn what to focus on for your afternoon lesson.
7:30 PM Dinner
Every other night we'll do a simple group dinner at the camp.
Free Time
Grab your beverage of choice, hang with new friends, walk around town, or go to bed early and get a good night's sleep! There's no judgment here.

Inspired to join us at Banana Surf Camp for a week you won't forget?
Save your spot or contact us if you have any other questions about the surf camp or Arugam Bay!