WELCOME TO
BANANA SURF CAMP
Surf with us

Surf Camp & Lessons In Arugam Bay, Sri Lanka

Welcome to the Banana Surf Camp family in Arugam bay, eastern Sri Lanka. Our Surf Camp is located in the heart of the popular surf spot Arugam bay. Thousands of professional surfers and beginners come here every year to catch some of the best waves in the world.
Get the taste of a surfer's lifestyle: Surf, eat, sleep and repeat. That means a lot of adrenalin surfing on the board, which makes you hungry. Satisfying the hunger with an unlimited variety of healthy and delicious food for you to eat. Enjoy relaxed, social and chilled hours while you are off the board and have a good sleep in our comfortable accommodations. As soon as the sun rises, we repeat! Let's have a good time together, no matter which level you are. You can only become a better and stronger surfer!
Learn Surfing at Banana Surf Camp

Banana Surf Camp is designed to accommodate varying surfing experience levels during a week-long camp in the beautiful, tropical, location of Arugam Bay, Sri Lanka. Throughout the week, you will improve your surfing ability, eat amazing healthy food, and get to experience the beautiful east coast of Sri Lanka. Whether you're seeking a clean room, friendly and knowledgeable instructors, good vibes, or the right environment for making new friends, we've got you covered. We'll do all the heavy lifting. You just need to show up and enjoy!
SURF LESSONS IN ARUGAM BAY

Arugam Bay is one of the best destinations in the world to learn surfing. Beginners can learn to surf their first waves in green water instead of the white water (don't worry, we'll teach you all about it, but trust us, you'll like it!). Our favorite part of surfing is the warm waters of Arugam Bay, the relaxed community, and getting to surf right alongside the local culture. You may see local fishermen waking up to get the catch of the day, local families enjoying time together at the beach, or if you're at Peanut Farm or Elephant Rock, you may be lucky and see wild elephants too. While most of our students are beginners, we have a lot of experience and can help intermediate students improve their surf skill set.
All lessons are led by ISA certified instructors

Lessons can be scheduled any time between 5:00 AM – 5:00 PM

Beginner and intermediate lessons are 90 minutes

Surfboard and tuk tuk hire are included in the price of the lesson

Use of rash guard is included
SurfBOARD & EQUIPMENT RENTAL

Our shop is equipped for you! We keep the shop stocked with shortboards, longboards, single fins, twin fins, and of course a variety of soft boards and longer hard boards available to rent. Boards meet beginner to advanced surfer standards and can be rented for a half-day, full-day, or long-term. Prices start as low as $4 USD/half-day and are dependent on which board you are renting. All rentals are inspected by both staff and customers before you head out for your surf. We'll both check for dings, number of fins, fin security, and leash condition, so you're free from liability for prior damage. Fresh wax will be applied before each surf. Surf on, my friends.

At our shop on the main street in Arugam Bay, we are doing epoxy and polyester surfboard repairs. We have all the repair accessories necessary and most of the pigment colors. Repair time varies, but rest assured, we'll get your board back to you as quickly as possible. The following items are in stock at the shop regularly. Just ask the staff!
Second-hand surfboards

Surfboard fins (carbon and plastic)

Surfboard fin boxes

Surf leashes

Surf wax

The small fishing village and surf town of Arugam Bay borders the Indian Ocean. Arugam Bay is an 8-hour drive from Bandaranaike International Airport near Colombo and is a 6-hour drive from the south of Sri Lanka, where many travelers visit on their way to Arugam Bay. There are 9 incredible surf points located within walking distance or just a short drive away from Arugam Bay that can accommodate any surf level. The Main Point is a reef break, and all of the others are sand breaks. If you're visiting at the right time, you may be able to see the only international surf competition in Sri Lanka right here at the popular Main Point break. In addition to surfing, there are many other things to do, including sunsets, sunrises, making new friends, doing a safari, going for a swim, and watching the wildlife. The typical surf season in Arugam Bay is April to October.

Our ISA-certified Instructors will teach you as a beginner or intermediate surfer in the water. With the combination of their positive vibes and their high qualification, you will catch your first waves quickly. Besides our instructors, we have staff at the repair shop to make sure your board is always in perfect condition to go surfing. We're happy to coordinate a Tuk Tuk hire to bring you and your board safely to all the exciting surf spots around Arugam Bay. We will be here for all of your questions. Come and join and get to know us better!

"What a great experience. My boyfriend and I just had a few amazing days learning how to surf at the surf camp. It has been a lot of fun, our instructor Ibu spoke perfect English, he was calm with us struggling in the beginning, but motivated us that much, that we even bought boards at the end. We always got good equipment, could try different boards and he always was on time and transport and everything that belonged to our surfing adventure has been well planned. We highly recommend to come to Ibu and his team at Banana Surf Camp! Best if you join their whole week of camp!"
"A very organized, punctual and reliable surf instructors in the banana surf school. The equipment was always in perfect shape, prepared every day and especially the variety of surfboards is massive. So you will definitely find exactly what you are looking for. The lessons were especially helpful for my daughter, who ust learned surfing. So even for kids I can highly recommend Ibu with his team. There the kids are in good hands and learn quickly how fun it is to surf!"
"It's the best feeling when I followed you surf coaching advice and things immediately start to work out right. I was able to catch the waves. I quickly became an intermediate surfer instead of still being a beginner. I understand my mistakes now on the board and see the right way to progress. All the different surf spots of Arugam Bay helped me to learn how to read the waves. Plus Banana Surf Camp is a great team. I enjoyed not just the hours in the water with you but also the rest of the program at the surf camp. Yoga, movie night, campfire, common dinners with delicious food, relaxing at the beach and socializing at parties. Thank you!"
"Just a note to tell you how much I appreciate your staff at Banana Surf Camp. My instructor for surf lessons in Arugam Bay was patient and instrumental in getting me to the next level of being an intermediate surfer. I am going at this with as much focus and repetition as time and waves permit. It's a slow process until I will become a professional, but I'll finally get it! Thank you so much, guys. I will come back to the beautiful east coast of Sri Lanka and your amazing team!"
"I have joined your surf camp and can only tell how fun during the day with other campers and your team and successful in surfing it has been. The surf lessons including the theory were very helpful to become from beginner to intermediate level of surfing at the end of the week. But also the Yoga lessons, the delicious food, the company of other campers during the day and relaxing at the beach made the stay in Arugam Bay unforgettable. I will come back!"
Viviane W. | Netherlands | Jul-2021
John T. | USA | Aug-2020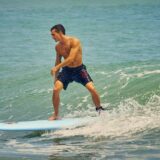 Bastian H. | Germany | Sep-2021
Thomas A. | UK | Apr-2019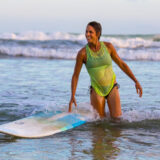 Ida M. | Russia | Aug-2019

Thank you for your interest in Banana Surf Camp in Arugam Bay, Sri Lanka. We want to answer all your questions about Surf Camp, Surf Lessons, and anything else that may arise. Feel free to contact us anytime by Whatsapp, E-mail, Facebook, or Instagram. Furthermore, please feel free to come to say hi, at our shop on Main Street if you are already in Arugam Bay, Sri Lanka!